Knittin' & Knittin' & Knittin'
As I think I have said I am knitting an edging chosen by my sis for the Candle Flame Shawl I made her for her birthday. It is a 22 stitch repeat of a pattern from "Knitting on the Edge" by Nicky Epstein. You would think I would have it done by now. You would think, however I blocked the shawl before making it a present and it was very nice. This yarn has quite a bit of acrylic in it so the blocking didn't exactly change and stay as we are used to with 100% wool content.

So I killed the acrylic. Wish I could find the articles I have read about doing this but I can't seem to right now. Basically it is simply using heat/steam to press it and it works wonders. I do have a couple of pics to show you, hopefully you can see the difference.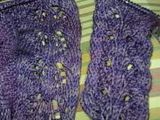 I am showing two pics, one is more washed out than the other but in each picture the edging on the left side has been ironed and in fact is already attached to the shawl. If you count, you can see there are about 3 "patterns" on the one on the left however the one on the right has about 5 "patterns". It is very "puckered and lumpy" (highly technical terms of course!) That is how much it presses out and flattens, when ironed with heat and steam. I have done the shawl itself too before attaching the edging and it feels very soft and quite drapey (is that a word?).
In the next few days, I am determined to have this done. The deadline (self imposed) of Oct 31, has obviously come and gone but it has taken me longer than I had hoped. However, it will happen and it will get mailed and she will like it!!
Not much other news on this front, you will see finished pics once this is totally complete. I am on the last edge now, having turned two corners with this edging so wish me luck and a nice day of knitting!
May your day be filled with nice "edges" and lots of knitting.