and then there was one....
Yarn Tales
Along with finding out that my employer no longer considers me valuable enough to keep, I lost my sweet Socks this week. I found my wee cat a bit lethargic after my week away, although I had been in and out to feed them, she seemed to be very, very quiet.
I phoned the vet on Monday and off we went on Tuesday. They wanted to keep her, run some tests and see if there was once again a digestive blockage of some sort...(read more ingested yarn!!). Indeed there was and they tried to build up her system overnight and then operated on Wednesday.

She didn't come out of the anaesthesia very well and they called me quite alarmed. I spent most of Wednesday afternoon at the Vet, trying to get her to "wake up" and become the normal cat I had grown to know and love. They removed the oxygen with the warning that if she didn't breathe on her own, then it would be obvious within moments but she did although she still wouldn't "come out" of a very deep daze. Finally around 6 pm she brightened, meowed as if to say, "I am back", and tried to actually stand up. Swallowed, meowed again and then slept. I left thinking that the worst was over, however, they called first thing on Thursday morning to say, her liver was in shutdown, she was still very, very pale and they didn't think she would last the morning. I went and spent the last few hours with her, holding her, petting her, listening to her shallow breaths, getting her fur wet with my tears and finally about 11:30, the wonderful Vet, Rachel Spence said it was time.. I agreed and she slipped quickly and quietly to sleep. Her sister Boots and I miss her alot, especially at night as she was my tiny pillow companion!..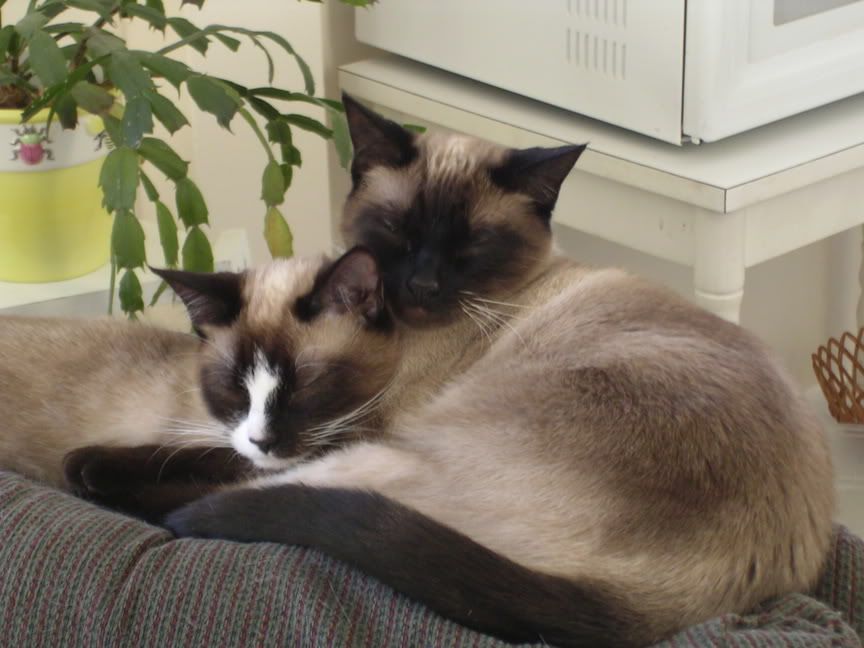 Sleep well Little Princess, you can play with all the yarn and thread you like now...it will do you no more harm.