Whew!
So finally have a few items done and thought I would finally share some photos. This is the bigger of the items I have been knitting on or at least finished. This is CM's sweater. Knit for my youngest grandson. He is 17 mths old and never stops. I see him alot and I know this will look great on him. I just have to make sure the neck is big enough to go over his head. I Have adjusted it once but may have to do it again.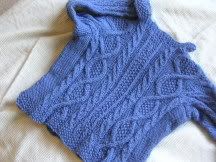 The other item I have completed is the <a href=http://www.grumperina.com/sharfik.htm>Sharfik</a> and such a wonderful pattern too!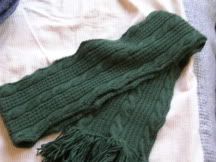 It is sooooo soft. It is baby alpaca and merino..and the colour is pretty true..like a "bottle green"..(am I showing my age with that description????)
Next I have completed 2 prs of fingerless gloves and hats to match each pair. They are for two of the grandaughters!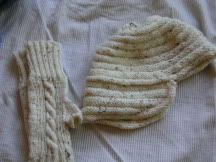 Next is a pair of socks for the oldest grandson (almost 20). I found the yarn to be kind of scratchy at first but a nice soak and a block and they are soft as can be. Hope he likes them as he wears them to work and to just keep warm!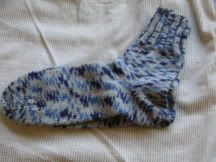 So that is what is completed so far, however there are still lots to do. I have cast on for a shrug for my oldest DD and still need to get her a couple of other things. Hoping to get a smaller version of the same shrug done for Ali too (8 yrs). I have also (stupidly of course) volunteered to knit a scarf for a co-worker for her Secret Santa gift. I have almost completed my Secret Santa gift so it will be done shortly.
I think I will cast on many, many stitches and alternate rows of some fuzzy yarn (I know, I hate it too) with rows of some nice alpaca I have. I think it will suit the recipient nicely.
Working away on SIL's vest that I am knitting him for his 40th birthday that has already come and gone. Hoping to give it to him at Christmas too, however it might not happen. Have the back done...well not quite!! but almost.
Picked up some nice lavender today and some lavender oil for scent. I am going to knit a couple of those sachet bags for small gifts for a couple of people. My son-in-laws folks are coming from California for Christmas so want to have something small for them. Might also make a felted bag for someone else but we shall see...just a couple of straight days of knitting would do it...don't laugh, it would!!!
A dear friend sent me a beautiful email today with lovely pics of animals together that normally one would not expect to see, ie cat & a mouse, a monkey and a dog etc. The title of it is "What Peace Really Looks Like". I wish everyone in this world would learn something from the animal kingdom, it would result in a much better world imho. Here is my contribution to "peace"...these two play and scrap alot, especially in the morning but here they are snuggled and enjoying each other as sisters. The one with the white streak of lightning on her nose is the "Golden Cat". ...I will explain another time for those that might not know.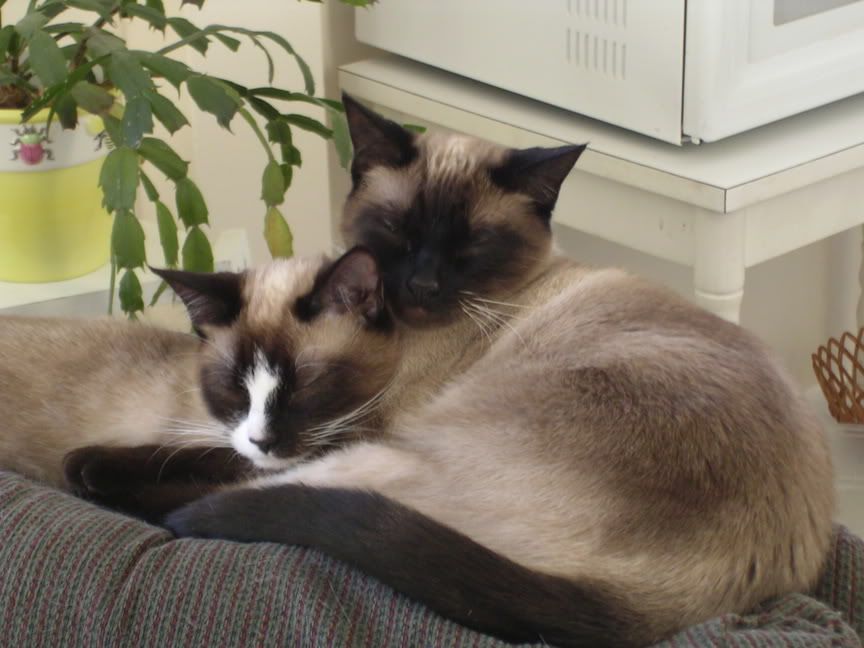 Ooops forgot to resize this!
talk to you all soon, hope there is plenty of peace in your life these busy days, take time for yourselves!