Socks, Socks & Socks!
Well I did receive my Sockapalooza socks after all, I must admit I was beginning to get a bit worried. However, the wait was definitely worth it as some gorgeous, deep blue alpaca socks arrived along with a skein of Fleece Artist Sock yarn!!!I have cast on for a pair of cabled socks with it already as it is such gorgeous yarn. You can see in the pic it is deep greens, blues and purples. I wanted to knit them up before my sis sees this yarn or she will want it and she is NOT getting her hands on it!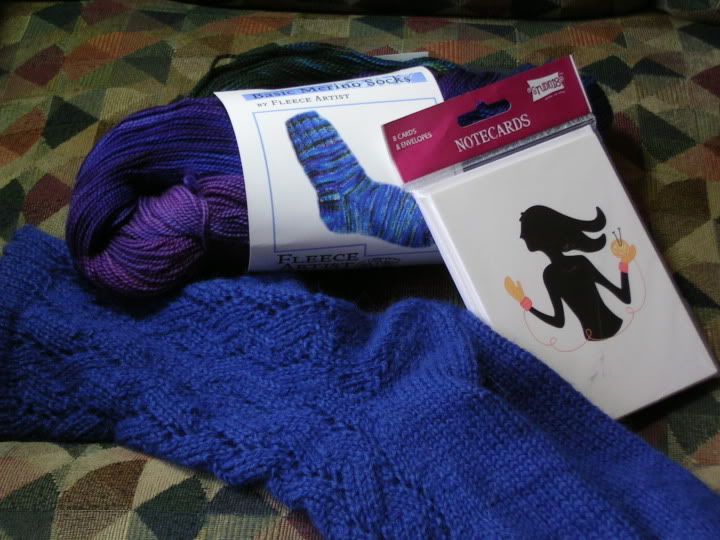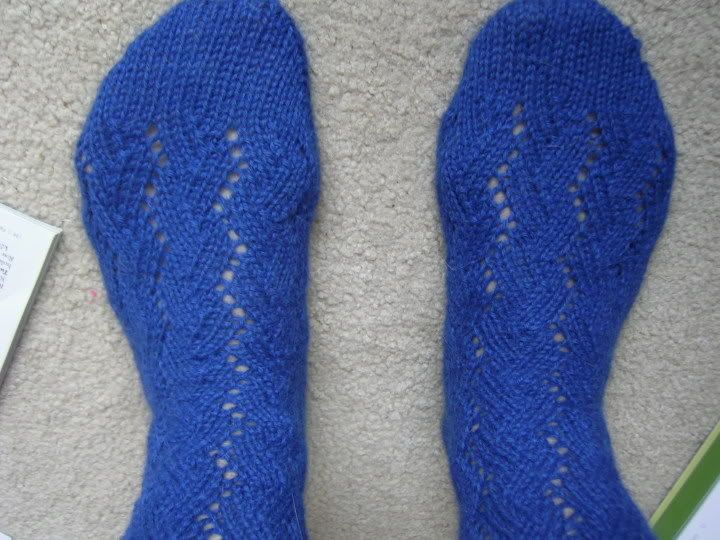 They are definitely a beautiful sock knit by Meghan in Ontario. She is just getting her blog back in shape and you can check her out here Thanks again Meghan, it is a pleasure to meet another Canadian knitter and blogger. They fit so well and are so cozy. For a while, it was very hot here and there wasn't a need for socks so I tucked them away, however yesterday and today are rather cool so they have been on my feet for sure!!
I also have been knitting socks, along with other things and I have managed to finish a couple of pair. I did the Embossed Leaves socks with some gorgeous striped pink Trekking (colour # 133) and although you may question my sanity in knitting such a busy pattern with the variations in the yarn, I am enjoying them.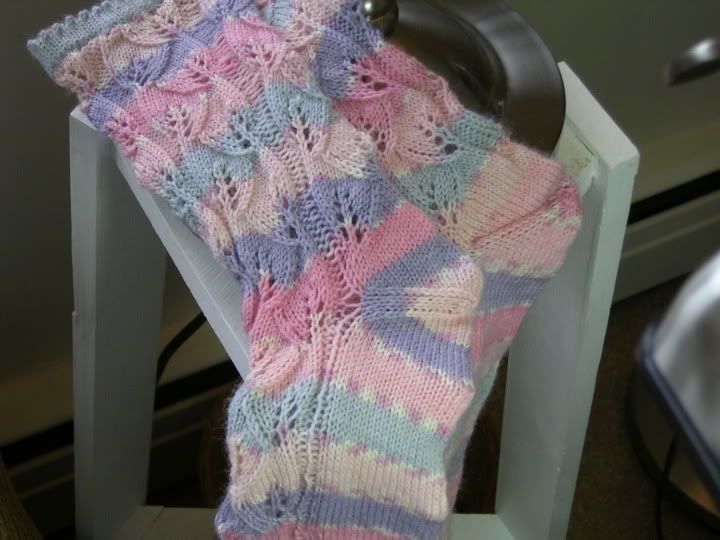 They seem to be quite springlike and are very pretty. My friend Sandra would not like them as they don't match "exactly" but they are fine for me :)

Then I finished another pair of some yarn that was gifted to me. I don't remember exactly what yarn it is but it is rather scratchy, so I rinsed them in vinegar when I washed them. That seems to have softened them up a bit. Again, S. they don't match exactly but they are fine!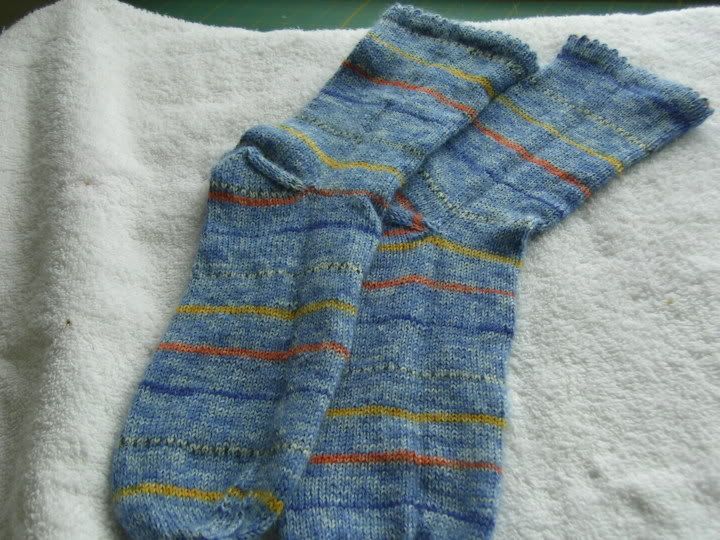 The kids received the parcel and they L.O.V.E. the dress and sweater however I am anxiously awaiting a picture of sweet C. in it!. I had Happy Birthday sung to me in Japanese, French and English so I feel quite priveleged! Of course, it was only the boys as C. isn't quite that talented yet:)
That is pretty much it for now, I am late in blogging about my Sockapalooza socks so I wanted to get the pics up!
Have a great week everyone and oh the "Pedicure" course went very well now I have to complete 10 pedicures before June 7 for my final exam. There is a written part for about 90 minutes and then we do another ped for our instructor to observe. So far so good and I must review my notes every day to ensure I don't forget anything. Quite alot of detail about the foot, its structure and so on.
bye for now